Operational exellence in Electronics Manufacturing Services
| Wydarzenia
Operational excellence can help EMS providers achieve the highest levels of agility. However, this phrase is often a misunderstood aspect, so we decided to dispel five common myths.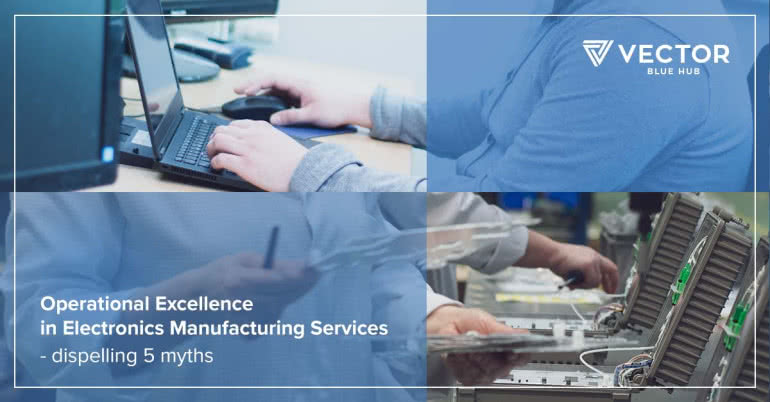 It would not be easy to find an industry that has changed our lives more over the past few decades than electronics. Over the years the approach to quality has significantly improved, taking on a whole new meaning. Electronics Manufacturing Services (EMS) companies need to make smart decisions that bring real value to the customer, whether in terms of product design, prototyping, or contract manufacturing, including the New Product Introduction (NPI) process.
Along with being excellent in actions, we can achieve the highest operational efficiency levels by doing things better, faster, and cheaper. However, operational excellence is often a misunderstood aspect of the electronics industry. This is why we have decided to dispel the top five myths associated with operational excellence in the EMS industry, based on our own experience.
Myth #1 - Operational excellence processes function in the same way for every EMS customer.
Suppose you have developed processes that embrace problem-solving activities, and you implement them across a multifunctional structure. However, operational excellence is something more than just following a process, as it is the philosophy that we need to follow, with the focus on the mindset and guides rather than rules. Being excellent has its roots in the company culture and the actions that employees take in your business operations. By always seeking to give the best, the team commits to continuous improvement and sustainable development, thus changing how the whole company operates.
Since everyone knows the theory, why do problems appear when it comes to the practice? Many of us forget that one of the key factors behind our decisions is … our humanity. Without empathy, and a good understanding of the need for a third party, we fail to react accurately and effectively. For instance, when the COVID-19 outbreak first affected supply chain management, maintaining the continuity of supplies and the availability of components became a difficult challenge. Without acknowledging the significance of the problem, and the fact the customer also has obligations, many EMS providers lost both the customer and their business continuity. If they cannot care for the product like it was their own, they are unlikely to be rated as easy-to-do-business-with.
To sum up, the processes will not work in the same way for every customer. Taking good care of the customer goes way beyond operational excellence, which is sometimes considered an organization-centric approach rather than a holistic one, enabling effective decision-making and aligning more with the goals of sales and operations. What then, as a customer, do you need in your Electronics Manufacturing Services partner? Flexibility, empathy, years (sometimes decades) of experience gained in design and manufacture, and a can-do attitude. If all you have is a hammer, then every problem looks like a nail.
To get more visit our website: https://bit.ly/3syxrLd